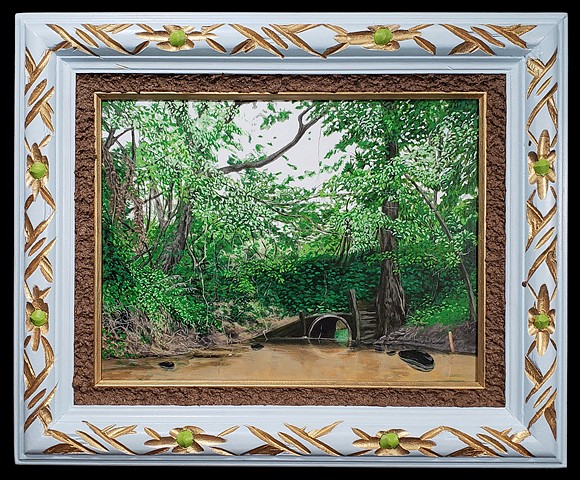 Sansi-yé dan Bayou Vèmiyon (Leeches in Bayou Vermilion)
Acrylic and Bayou Vermilion mud on panel, recycled frame
18.25 x 22.25 in.
2023
Sansi-yé dan Bayou Vèmiyon
son a pagayé dan dolo
— Li gin tro polisyon pou biñé dan lá, mé çé bon nouzòt té prenn in piròg.
— Mhnm.
son a pagayé dan dolo
— Disan, disan, disan. Çé tou y'olé.
— Ki?
— Sansi-çayé dan bayou-la.
— Omwin ça isit va arété yé bwa vô disan.
— Abin, sansi-layé ki té pa grosi pli gran k'in barbi.
— Konm çèzlá?!
— Mhnm… Vou gin ashté in gran bato en métal. Sinon, y'a trapé vô jamb o vô pyé sî nimpòt koté piròg-la! Yé konné détrwi dibwa avèk likid ki sòr yê dé laboush. Lamæd-çála byin tòksik!
— Kofè vou té pa di ariyin avan no rentré dan bayou-la?!
— Paské mo gin ènn en mô do… é li fé tensyon mo gidé vou byin.
in trou parèt enba piròg
— Fandgas!
Wap! Wap! Wap! – son a pagay apé frapé dibwa, lapo, dolo é filan plizyè fwa
Leeches in Bayou Vermilion
sound of paddling in the water
— It has too much pollution to swim in, but it's good we took a pirogue.
— Mhm.
sound of paddling in the water
— Blood, blood, blood. That's all they want.
— Who?
— Those leeches in the bayou.
— At least this here will stop 'em from drinking your blood.
— Well, the leeches that haven't grown larger than a catfish.
— Like those?!
— Mhm… You gotta buy a big metal bateau. If not, they'll catch ya leg or your foot on any side of the pirogue! They can dissolve wood with liquid from their two mouths. Shoot, that shit's toxic!
— Why didn't you say anything before we got in the bayou?!
— Because I have one on my back… and it makes sure I guide you well.
a hole appears on the bottom of the pirogue
— Holy shit!
Whop! Whop! Whop! – the sound of a paddle hitting wood, skin, water, and slime several times



Çé sèlmen posib fé kopi apré tèks é pòrtré si lartis-la donné pèmisyon ékri.
No text or images from this site may be reproduced without express written permission of the artist.