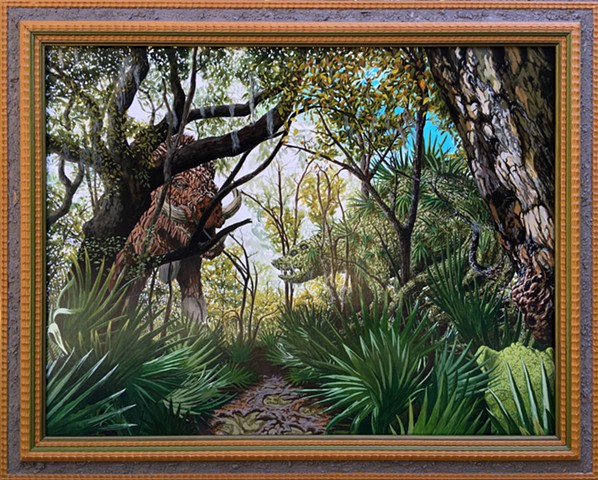 Jonathan "feral opossum" Mayers was born in the area where the Houma and Bayougoula tribes once divided their hunting grounds by the istrouma, le batôn rouge (the red stick). He grew up under the white oaks close to the Amite River, a place that welcomed discovery and exploration. On weekends Mayers would take trips to the family camp on Belle River in Pierre Part, LA or to visit family in Lafayette, Sunset and Opelousas, LA. He formed a connection with his environment by plunging into lakes to catch turtles, creating mud structures, building wooden bridges, and imagining himself as a monster to then smash "skyscrapers" in mudbug cities. While attending LSU, his artwork took on cartoon-like imagery, boasting vivid colors reminiscent of video games and comic books. His passion for reconnecting with his heritage and reclaiming his family's culture, which was lost two generations earlier due to the Americanization of Louisiana, took hold and helped to spawn Green Guédry, a character which uses one of Mayers' ancestral surnames. The character acts as a metaphor for benevolent, yet resilient people of Acadian and Créole descent. After living and working in New Orleans for 6 years and feeling seemingly disconnected from the land, Mayers turned to creating images of mythological monsters that now exist in his home-inspired marshes and swamps. He spends much of his time visiting with artist and musician friends in Louisiana, listening to local bands from the area, steadily learning language and traditions of his culture, and travelling to environmentally sensitive areas to collect mud and sediment from these places to include in his artwork.
Artist and Professor Carrie Ann Baade calls Jonathan Mayers' work "unique and mystifying."
Louisiana Creole artist, writer, and independent curator, Jonathan "feral opossum" Mayers, was born and raised in Baton Rouge, Louisiana. Mr. Mayers attended Louisiana State University as a computer science major before changing his course of study and earning his Bachelor of Fine Arts degree in Studio Art with a concentration of painting and drawing in 2007. While living in New Orleans, Louisiana, he received his Master of Fine Arts degree in 2011 with a concentration in painting from the University of New Orleans. Between 2012-18 he was a founding member of the TEN Gallery + Collective. He received scholarships to attend French Immersion at Université Sainte-Anne in Church Point, Nova Scotia from both the Université (2015) and CODOFIL (2016). Mayers has exhibited works in Prospect.1-4+ Satellites, multiple Surreal Salons, Notes from the Artistic Underground, ART I-10, and Tiercé. His work is included the LSU Student Union Art Gallery Permanent Collection and the art collection of Université Sainte-Anne in Church Point, Nova Scotia. In Fall 2018 he was an artist-in-residence at A Studio in the Woods for Adaptations: Living with Change in New Orleans, LA. In Spring 2022, Mayers participated in an 8-week artist residency at Est-Nord-Est in Saint-Jean-Port-Joli, Québec, Canada. Currently Mayers is represented by Arthur Roger Gallery in New Orleans, Louisiana, were his most recent curatorial project, Mythologies Louisianaises, accompanied by a trilingual catalogue in International Louisiana French, Kouri-Vini (Louisiana Creole), and English was on display in August and September 2018.