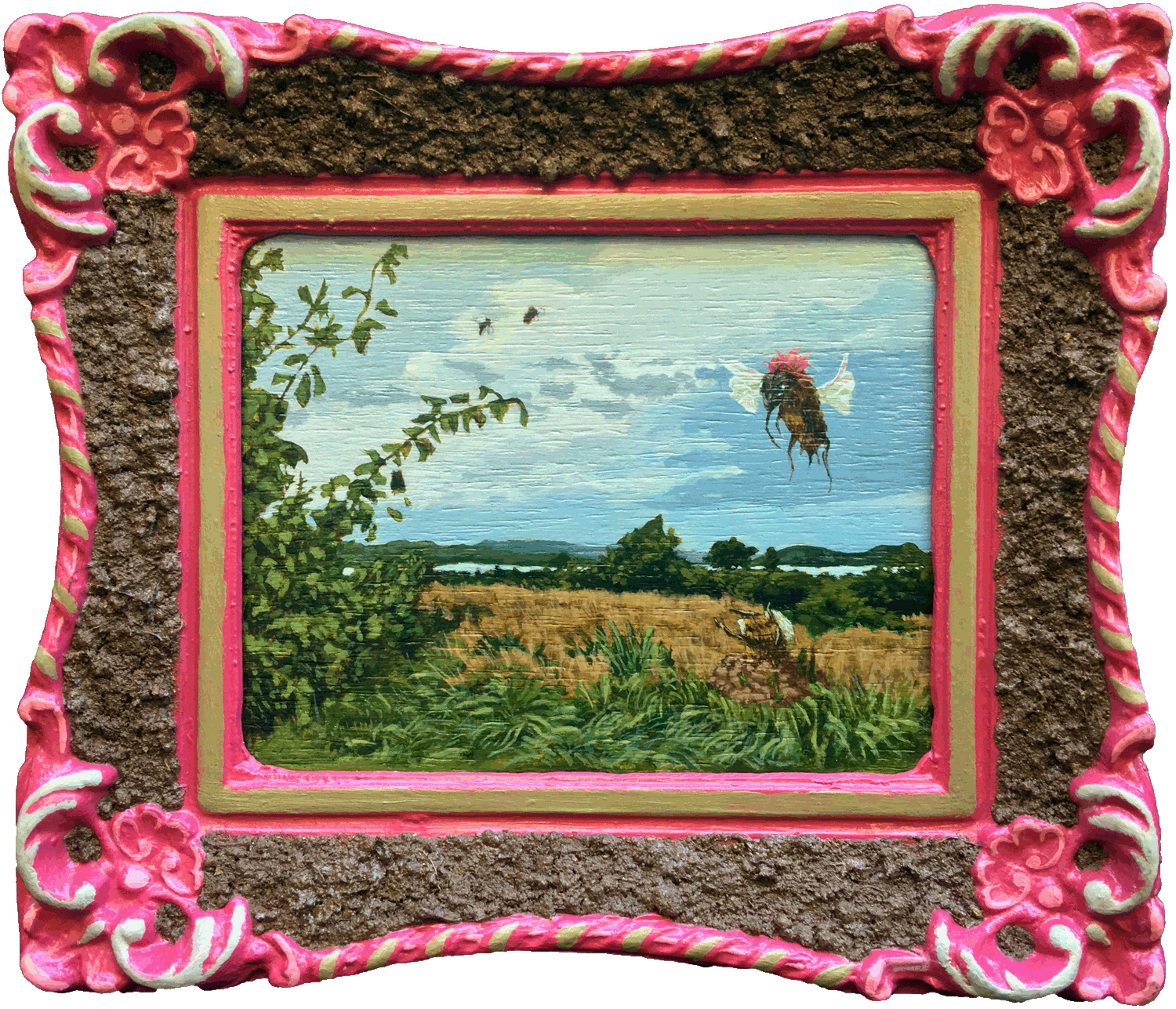 La Côte du miel (The Honey Coast)
acrylic and sediment from Bassin Port Royal, the Melanson Settlement, on panel, repurposed frame
6.75" x 7.5"
2017
Sha, pas étonnant nos ancêtres s'est installés le long du bassin de Port Royal dans le vieux temps… Ces abeilles froissées et magenta ont maintenu le sol en creusant, cultivant essentiellement la terre. Eusse produit même du nectar alimentaire, sucré sucré, souterrain-là. Grandes comme eusse est, leurs dards ne font à personne du mal. Ils sont usés pour protéger les abeilles pendant des tempêtes brutales pour ne pas être jetées dans la baie comme appât pour ce qui se trouve sous la surface. On dirait ça serait mieux de rester prudent dans la brise froide qu'étant mâché, puis dissous dans l'acide gastrique gluant. N'est-ce pas?
Sha, no wonder our ancestors settled along the Port Royal Basin so long ago… These magenta ruffled honeybees kept the soil fertile by burrowing, essentially tilling, the land. They even produce some of that sweet sweet nutritional nectar souterrain. Large as they are, their stingers won't harm anyone. They're mainly used for securing the bees during brutal storms so as not to be tossed into the bay as bait for what lies beneath the surface. Seems like a better idea to stay safe in the chilly breeze than being chewed, then dissolved in gooey stomach acid, right?


Private Collection.
Çé sèlmen posib fé kopi apré tèks é pòrtré si lartis-la donné pèmisyon ékri.
No text or images from this site may be reproduced without express written permission of the artist.