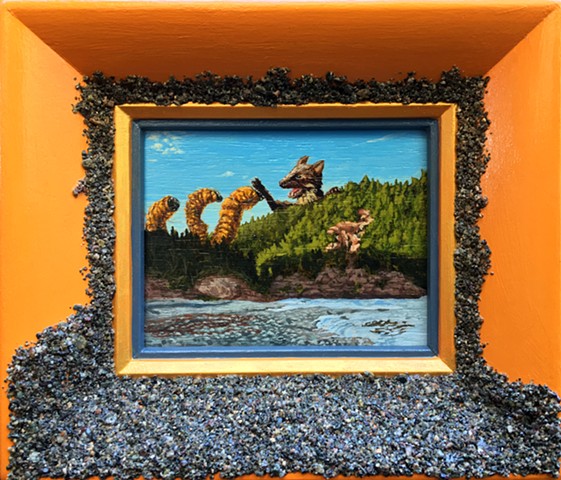 Attaque des tordeuses ravageantes (Attack of Ravaging Budworms)
acrylic and pebbles from Point Wolfe on panel, repurposed frame
6.75" x 7.75"
2017
C'est zirable de oir une région déboisée se rétablit bien puis d'avoir ces sacrés tordeuses viennent faire des ravages icitte. Eusse a tant mangé des aiguilles ayant une odeur douce qu'eusse est devenues giguénormes, poussant leurs propres aiguilles blanches de la peau orange remplie de pus. Ça semble comme eusse a provoqué la marte d'ortie! Ces tordeuses ne vont pas survivre le picotement des poils à lui. Une piqûre et vous êtes paralysé(e) – endeuillé(e) d'une vie longue après devenant le plus récent repas d'une marte.
It's revolting to see a deforested area make such a beautiful recovery… just to have these damn budworms come in and wreak havok. They've eaten so many sweet smelling needles that they've become ginormous, growing their own white ones out of orange pus-filled skin. Seems that they have provoked the nettle marten! Those budworms don't stand a chance against its stinging hairs. One prick and you're paralyzed – bereaved of a long life after becoming a marten's latest scrumptious meal.


Private Collection.
Çé sèlmen posib fé kopi apré tèks é pòrtré si lartis-la donné pèmisyon ékri.
No text or images from this site may be reproduced without express written permission of the artist.