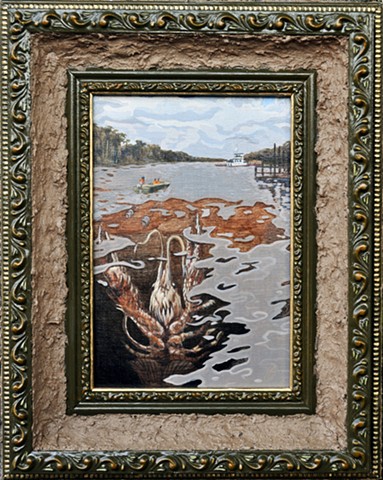 La Grande Écrevisse blanche de rivière (The Great White River Crawfish
acrylic and Intercoastal Waterway mud on panel and repurposed frame
10.5" x 8.5"
2015
C'est comme le paradis, le bassin d'Atchafalaya. L'animation est bouillante, les cyprès élèvent constamment des boscoyos, et les écrevisses de rivière sont abondantes dans cette vaste région succulente. Pour empêcher leur bateaux de devenir endommagés, les pilotes évitent les boscoyos – surtout ceux bruns clairs et blancs qui poussent au milieu de la voie navigable de navigation intérieure. La force et le son distinct d'un bateau, en frappant, lancent une réaction vigoureuse qui se termine dans des échos d'éclatement, de fendage, et de froissage tout partout dans le marais. Très similaires aux pêcheurs d'écrevisses usant les dragues dans le bassin, ces "boscoyos" sont des pièges à ressorts – connectés à la grande écrevisse blanche meurtrière de rivière. Même pas un tug est capable de résister aux lacérations barbares de ses longues fines pinces pointues. En tout cas, c'est plus facile pour faire une vie icitte qu'à Jennings.
It's like paradise, the Atchafalaya Basin. Life is teeming, cypress trees are constantly pushing up boscoyos, and river crawfish are plentiful in this vast luscious region. To keep their bateaux from getting damaged, pilots steer clear of the boscoyos- especially the light brown and white ones that sprout in the middle of the Intracoastal Waterway. The distinct force and sound of a bateau hitting one initiates a vigorous reaction that ends in echoes of popping, splitting, and crumpling throughout the swamp. And similar to crawfishermen using dragnets in the basin, these particular "boscoyos" are spring traps- connected to the great and murderous white river crawfish. Not even a tug boat can withstand the barbarous lacerations of its long slender sharp pincers. In any case, it's easier to make a living here than in Jennings.


Featured on page 21 of Feux Follets: Chemins & Cheminements.
Écoutez sur YouTube. Listen on YouTube with subtitles in French and English.
Private collection.
Çé sèlmen posib fé kopi apré tèks é pòrtré si lartis-la donné pèmisyon ékri.
No text or images from this site may be reproduced without express written permission of the artist.