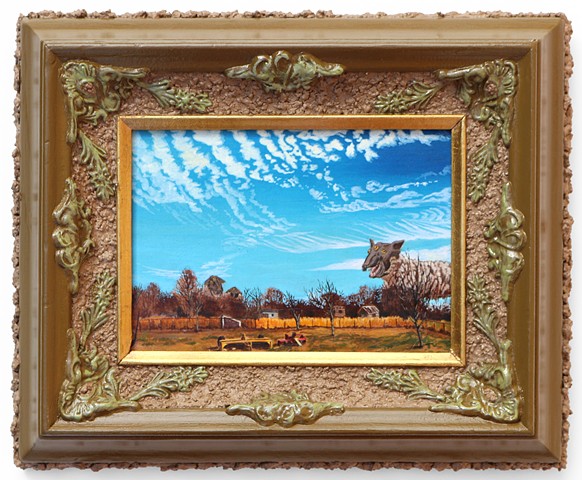 Les Moutons à Mandibules des Opelousas (The Sheep with Mandibles of Opelousas)
acrylic and Opelousas mud on panel and repurposed frame
9.5" x 11.5" x 1.875"
2015
If you listen closely, a faint rumble can be heard in the prairies surrounding Opelousas. Trees crack and creak, branches snap. A gentle winter breeze brushes against your skin. The ground trembles as tall grass and nine eyes of gold shimmer in the sunlight. It's a beautiful day to run. Fast.
Si vous avez l'oreille comme il faut, vous allez entendre un grognement faible à travers les prairies aux alentours des Opelousas. Les arbres se craquent en crâlant et les branches se cassent fort. Une 'tite brise hivernale danse sur la peau. La terre se tremble et dans le feu du soleil, on peut oir scintiller les herbes hautes et neuf yeux dorés. C'est une belle journée, vraiment, pour courir. Vite.
– Cette traduction française a été possible grâce à l'aide de JXB et Fabienne Kanor.