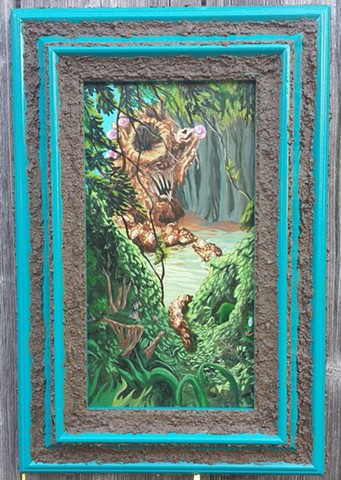 Amiteauxsaurus Crossing
(La Traversée de l'Amiteauxsaurus)
acrylic, spray paint, and Amite River mud on panel and repurposed wood frame
15" x 10" x 1.625"
2015
The Amite River beyond the white oaks floods every winter and spring. No one dares to cross the muddy swells then. Quoi faire? They live in fear of the stegosaurus-like creature that taunts children with bubblegum-colored bubbles that dangle from thin appendages. It has a bottomless pit for one mouth that will swallow them and their bikes whole. It uses a second mouth to chew moss and vegetation from trees and yet another, filled with viciously jagged teeth used for scraping the banks to gather carcasses. If you want to cross, I suggest you take to the sky.
La rivière Amite qui coule derrière les chênes blancs est en crue en hiver et au printemps. Personne ne se risque alors à traverser ses eaux vaseuses. Comment faire ? Ils vivent dans la crainte du monstre aux allures de stégosaure qui nargue les enfants avec ses appendices dégoulinant de bulles de bubble-gum. L'une de ses gueules est un cratère sans fond qui les avalera tout entiers eux et leurs vélos. Avec l'autre, il mâche la mousse et le feuillage des arbres et la troisième, montée de féroces crocs acérés, lui sert pour ratisser les berges et ramener les carcasses. Si la traversée vous tente, je vous suggère la voie des airs.
- French Translation provided by JXB.