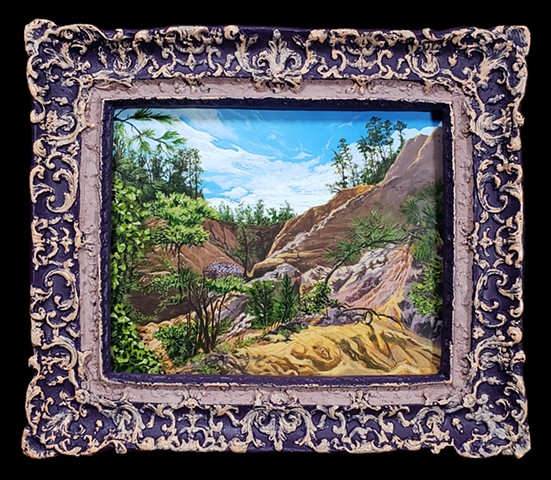 Bafré Blòf rouj (Red Bluff Buffet)
Acrylic and clay from Red Bluff on panel, recycled frame.
10.75 x 13 in.
2023
Bafré Blòf rouj
Ènnavé in jou latè té komensé tremblé olon larivyè Pèrl. Ça té fé in gran falèz dan Meshasébé pa tro lwin vilaj Rénar. Lari-la, dibwa-yé, é zalimo-yé té tou tombé 400 pyé dan larivyè enba. Dépi li té formin jou-çala, Blòf rouj té kontinnwé tremblé. Li gin joli koulè – rouj, zoranj – é lila minm. Dènnyè koulè çé ça ki gin maji. Moun riské yê lavi pou prònnin enho falèz-la é toushé latè lila. Okin laktivité enba sirfas fé yé enfwi, mé in jou… in jou yé gin renkontré ça ki fé blòf-la tremblé si yé pa fé tensyon. Enho, piti a piti, in ti zozo fé sô nî. Enba, piti a piti, in gro vè lila myété li.
Red Bluff Buffet
One day, the earth began to shake along Pearl River. It made a huge cliff in Mississippi, not too far from Foxworth. The road, trees, and animals all fell 400 feet into the river below. Since forming that day, Red Bluff has continued trembling. It's got beautiful colors – red, orange – and even lilac. The latter color holds magic. People risk their lives to take a stroll on the cliff and touch the purple earth. No activity under the surface makes them flee, but one day… one day they're gonna meet what makes the bluff tremble if they aren't careful. Above, little by little, a tiny bird makes its nest. Below, little by little, a big lilac worm nibbles on it.



Çé sèlmen posib fé kopi apré tèks é pòrtré si lartis-la donné pèmisyon ékri.
No text or images from this site may be reproduced without express written permission of the artist.