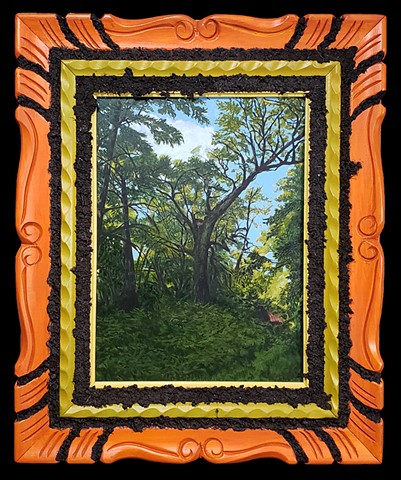 Kabònn dannin a Kouven (Damned House in Convent)
Acrylic and natural materials from Convent on panel, recycled frame.
23.75 x 19.75 in.
2023
Kabònn dannin a Kouven
Ka toujou tenn ditrin-çála dan bwa koté simityèr-la. Ça isit çé pròsh lokasyon aou prinmyé kouven dan réjyon té bati. Çé ènn plas moun janmé rentré apré dènnyé moun té pasé lapòt kabònn-la. Yé partí vit en silens. Yé partí avèk shvé brilé. Yé parti avèk mak fwèt en shakènn yê jamb, do é koté. Yé partí avèk in mak lakrò en lenk graté en yê jou drwat. Yé partí avèk yê lamin apé jonni, apé shèsé, apé kraké.
Yé té téré in karkas minou lasmènn avan yé partí. Ça té pi gin pwal, té pi gin lapo. Ça té manké sô lalanng. Yé té trouvé li plin zonng. Pov ti minou, li té jènn jènn. Pendan lanwit li sé vini bokou fim. Apé shærshé dilé dan nwa, li té sèl kréyatir ki té pa konné ifo pa fé ditrin dan yê kabònn dannin.
Damned House in Convent
Can still hear that noise in the woods next to the cemetery. This here is close to the location where the first convent in the region was built. It's one place people never enter after the last folks passed the threshhold. They left quickly, in silence. They left with burnt hair. They left with whip marks on each of their sides, legs, and backs. They left with a mark of the cross, inked, scraped into their right cheeks. They left with their hands yellowing, drying out, cracking.
They buried a minou carcass the week before they left. It had no more fur, no more skin. It was missing its tongue. They found it full of fingernails. Poor little minou, it was so young. At night it would get so hungry. Searching for milk in the dark, it was the only creature that didn't know one mustn't make noise in their damned house.



Çé sèlmen posib fé kopi apré tèks é pòrtré si lartis-la donné pèmisyon ékri.
No text or images from this site may be reproduced without express written permission of the artist.