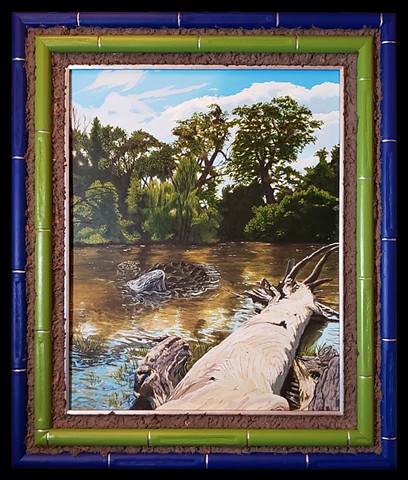 Meshasébé ho (The Mississippi River is High)
Acrylic and natural materials from the Mississippi River on panel.
26 x 22 in.
2023
Meshasébé ho
Pendan printem é lété n'a wa bokou dolo tombé dan Lalwizyàn. Mé pli nòrd é pli wès ké Larkansa lanéj fònn dan pléri é montañ. Dolo swivi, ê koulé dan larivyè konèkté, konm Ohio é Ozilinnwa. Ça monté pliské 10 pyé ent lévé-layé dan Lalwiyzàn, ê rempli Meshasébé-la.
Torti linm kan dolo ho dan larivyè paski li kapab biñé aou li envi, pa gin marshé ditou. Jou-çála, li té trouvé in trònk pa tro lwin aou moun pèddi yê larjen dabitid dan Baton-Rouj. Li arété lá pou profité soléy é shalœr. Apré in boudtem, in lombraj féb té parèt enba dolo bourbé-la. Dolo ho dan Meshasébé-la té mènin in lòt kishò obòr lévé-la. Ça t'ê fé in démi-sèrk otour Torti ki té pa konnin kishò t'ê gaddé li.
Kan li té gañin asé soléy, Torti sòti dan dolo-la pou shèrshé kishò pou manjé. Kan li frapé dolo, lombraj-la té gònn. Ènn, dé, trò segonn… çé tou ça té prenn pou in gro barbi séyé avalé Torti par sô pyé! Torti té gèté barbi-la dan kwin sô zyé gosh. Enba yé dé, dé lòt lombraj té parèt. Gro barbi-la té janmin vini konnin li té tombé dan in syèj. Trò zanmi ak lékay té dinnin byin byin.
The Mississippi River is High
During spring and summer, we'll see lots of water fall in Louisiana. But, further north and west of Arkansas, snow melts in the prairies and mountains. Water follows, flowing into connected drivers, like the Ohio and the Illinois. It rises 10 feet between the levees in Louisiana, filling the Mississippi.
Turtle loves when the water is high in the river because he's able to swim where he wants, no need to walk anywhere. That day, he found a trunk not too far from where people normally lose their cash in Baton Rouge. He stopped there to take in the warmth of the sun. After a bit, a faint shadow appeared under the muddy waters. The high water in the Mississippi brought something else to the edge of the river. It was making a half-circle around Turtle, who ain't had a clue something was watching him.
Once he had enough sun, Turtle dipped into the water to search for something to eat. When he hit the water, the shadow was gone. One, two, three seconds… that was all it took for a huge river cat to try swallowing Turtle by his foot! Turtle watched the catfish out the corner of his left eye. Beneath the both of them, two other shadows appeared. The huge river cat never realized that it had fallen into a trap. Three shelled friends dined byin byin.



Çé sèlmen posib fé kopi apré tèks é pòrtré si lartis-la donné pèmisyon ékri.
No text or images from this site may be reproduced without express written permission of the artist.