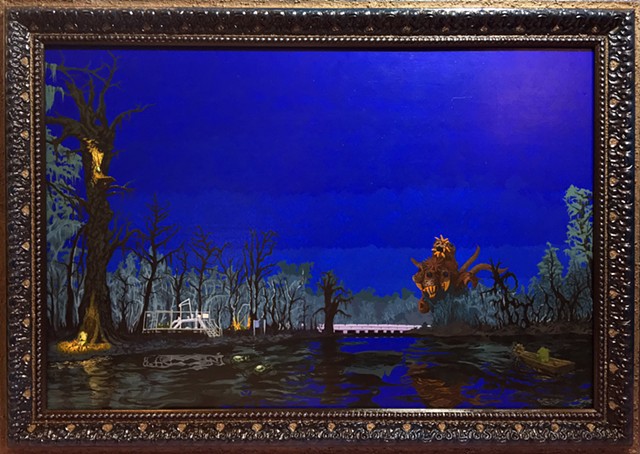 La Chousse verte sur la bordure du bayou des Acadiens (The Green Stump on the Edge of Bayou des Acadiens)
acrylic and Bayou des Acadiens sediment on panel, repurposed frame
29.75"x 41.75"
2017
Tard tard, dans la nuit il y a cette luminescence faible qui émane du milieu du marais – comme c'est le centre de la galaxie. Le plus facile moyen d'y arriver, c'est de prendre le bayou des Acadiens à pirogue-aux-pédales. Une jabloroc serait utile pour naviguer si tard au soir. Approchant la luminescence, ce qui était pensé d'être des chousses verdâtres, à l'époque, sont plus clairement compris comme les Guédrys verts bienveillants. Curieusement, eux-autres est la raison pour la luminescence chaude elle-même. Leurs yeux gauches iridescents et translucides sont la source – sont des jablorocs. On dirait que cette place, s'appelée La Chousse verte, est ayoù eux-autres vient pour se fréquenter et revitaliser – peut-être même pour reconnecter avec leurs ancêtres et leur héritage. Eux n'ose pas aller à l'autre côte du bayou la nuit, néanmoins. Vieux Célestin, un nutria mutant – ayant un ischiopagus, rôde dans la cyprière après la couche du soleil. Il n'y a pas de preuve qu'il est violent, quoiqu'un Guédry vert l'a vu jouant avec des cocodries comme ils étiont des ragdolls. C'est possible que le mutant ne s'intéresse qu'à ce qui arrive sans lui.
Late late at night there's this faint glow that emanates from the middle of the swamp – like it's the center of the galaxy. Easiest way to get there is taking Bayou des Acadiens by way of pedal-pirogue. A lantern would be useful for navigating so late at night. Approaching the glow, what was thought to be greenish stumps at one time, are more clearly understood as the benevolent Green Guédrys. Interestingly, they are the reason for the warm glow itself. Their iridescent and translucent left eyes are the source – are lanterns. Seems that this place, called La Chousse verte, is where they come to socialize and reenergize – perhaps even to reconnect with their ancestors and heritage. They dare not go to the other side of the bayou at night, though. Vieux Célestin, a mutant nutria – with a parasitic twin, lurks in the cypress trees after the sun goes down. There's no evidence that he's violent, though one Green Guédry saw him playing with cocodries like they were ragdolls. It is possible the mutant is only curious about what goes on without him.


Featured on page 25 of Feux Follets: Chemins & Cheminements.
Écoutez sur YouTube.
Çé sèlmen posib fé kopi apré tèks é pòrtré si lartis-la donné pèmisyon ékri.
No text or images from this site may be reproduced without express written permission of the artist.