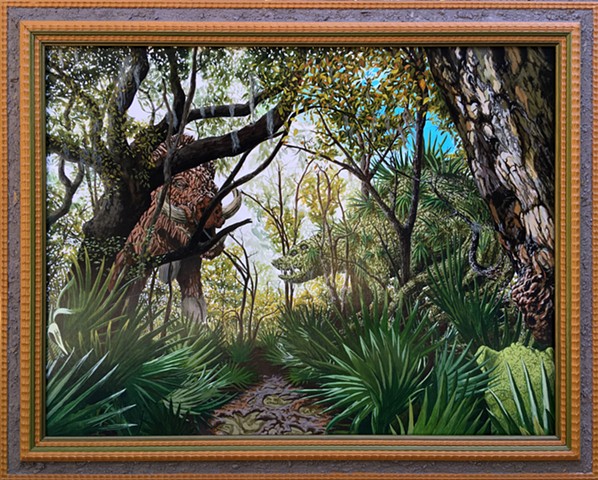 Le Grand Cochon boisé contre Le Gardien palmiste (Gran Koshon fouré kont Gardyin Latannyé, The Great Wooded Boar vs. The Palm Guardian)
acrylic and Jean Lafitte sediment on panel, repurposed frame
33"x 41"
2016
Le sens de la pourriture.
Une bête invasive et dangereuse, le grand cochon boisé, saute à travers les marais. Cherchant pour son manger, il détruit des cyprès et des chênes verts, les tirant de la terre comme s'il enlevait des herbes farouches. S'envalés complets, des tchonques de bois sont digérés dans le deuxième ventre du cochon pour extraire des composés qui revigorent la peau ample du bois, presque pétrifiés. Ses défenses se scindent dans les blessures de ses ennemis, les tuant lentement par la pétrification douloureuse.
Après s'arrêter dans son chemin, ce Guédry vert-ci va oir bienvite une bataille qui n'a pas cessé depuis des siècles.
Une créature régénérative, père Latanier, garde les marais, protégeant ses flores et ses faunes. Comme un avertissement, il siffle en secouant les lataniers qui poussent de sa peau. Les connexions fongiques au fil des plantes sur la planche de marais lui donnent le contrôle sur chaque latanier. À son avantage, il jette des pulses pour virer les chambranler – assez pour désorienter quèques attaqueurs. N'importe quelle frappe fatale au gardien va se répercuter vers la terre, faisant le marais générer son successeur dessous un latanier en bas.
En ce moment, lorsque le grand cochon boisé fonce vers le Gardien palmiste, on ne peut que souhaiter oir le coup justifié de la queue à père Latanier qui donne une mort prompte à cette peste de destruction-icitte.
The stench of rot.
A dangerously invasive beast, the great wooded boar, hurdles through the swamps. Searching for food it destroys cypress and oak trees, uprooting them as if it were pulling weeds. Swallowed whole, wood chunks are processed in the boar's second stomach to extract compounds which energize its nearly petrified, bulky wooden hide. Its tusks splinter off into the wounds of its enemies, slowly killing them by painful petrification.
Stopped in his tracks, this Green Guédry is about to witness a battle that has raged for centuries.
A regenerative creature, père Palmetto guards the swamps, protecting its flora and fauna. As a warning, he hisses and rattles the palms that protrude from his skin. Fungal connections to the network of plants on the swamp floor give him control over every palmetto. To his advantage, he sends pulses directing all of them to rattle – enough to disorient any attackers. Any fatal blow to the guardian will reverberate through the land causing the marais to generate his successor beneath a palmetto.
In this moment, as the great wooded boar lunges toward the Palm Guardian, one can only hope to see the vindicating strike of père Palmetto's tail deal a swift death to this plague of destruction.



Çé sèlmen posib fé kopi apré tèks é pòrtré si lartis-la donné pèmisyon ékri.
No text or images from this site may be reproduced without express written permission of the artist.