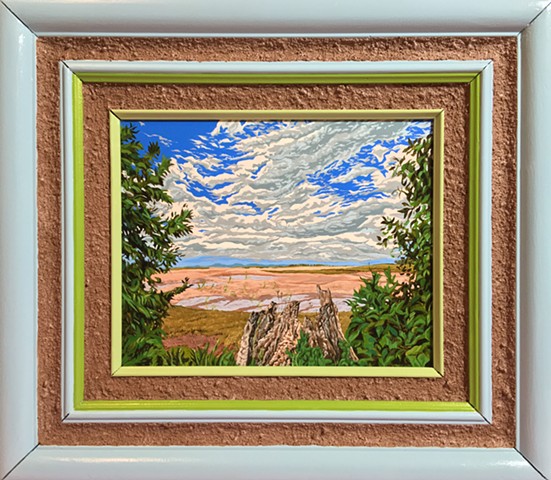 Les Âmes toujours attachées à Grand Pré (The Souls Still Attached to Grand Pré)
acrylic and Grand Pré sediment on panel, salvaged frame from Louisiana flood of August 2016
14.75"x 16.75"
2017
Observant en silence entre deux talles, il y a une chousse qui donne sur la rivière Gaspereau. Cassée, rongée, et piquée, ça persévère durant le temps et les hivers sévères. Équand les eaux au-delà la chousse sont dociles, le fond de la rivière est visible, des grandes illusions vertes diaphanes commencent à apercevoir. Comme la chousse, eusse reste enracinée à la terre. Des cris délicats répètent sur des petits bassins en dessous. Lorsque le bassin Minas se lève, des mots mélangés, graduellement assourdissants, sont entendus – sentis – deviennent plus fous à chaque instant. Deux fois par jour ceci termine avec une explosion des hurlements qui glacent le sang. Les Âmes de nos ancêtres sont silencieuses une fois de plus à Grand Pré.
Lurking between two shrubs, there's a stump overlooking the Gaspereau River. Broken, gnawed, and pitted, it preserves through time and harsh winters. When the waters beyond the stump are tame, the river bottom is exposed, tall diaphanous green illusions begin to appear. Like the tree stump, they stay rooted to la terre. Delicate cries echo on small pools of water below them. As the Minas Basin rises, gradually deafening jumbled words can be heard – felt – growing more frantic every moment. Twice a day this ends in a blast of bloodcurdling shrieks. Souls of our ancestors are silenced once more at Grand Pre.


Private Collection.
Çé sèlmen posib fé kopi apré tèks é pòrtré si lartis-la donné pèmisyon ékri.
No text or images from this site may be reproduced without express written permission of the artist.