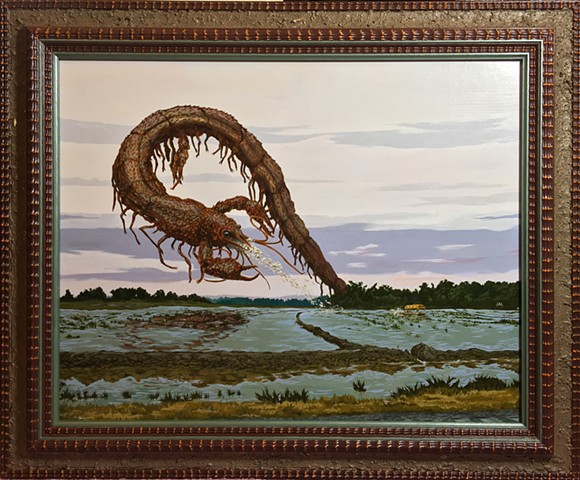 Le Mille-pattes d'écrevisse terrorisant toujours Jennings (The Centipede Crawfish still Terrorizing Jennings)
acrylic and Jennings sediment on panel, repurposed frame
25.75"x 30.75"
2016
Certains récolteurs d'écrevisses ne savent pas trop bien comment nourrir les écrevisses.   Par ailleurs, après le riz est tout mangé elles deviennent des maudites cannibales! Seulement une écrevisse dominante sur la ferme pourrait être une affaire vachement terrible… elle va finir par consumer les faibles et les faiblesses – obtenant des sections élargies de sa carapace. Le plus ancien de ces mille-pattes d'écrevisse reste là-bas à Jennings, dans un château d'écrevisses creux dessous bayou Nezpiqué. Il a l'oreille pour entendre des bateaux d'écrevisses et terrorise régulièrement les récolteurs en lançant des roches du riz à eux. On dirait c'est un mauvais coup, vraiment, mais on doit faire une vie. Toutefois, ceux qui sont mal équipés préfèrent la gamme du bassin.
Some of dem crawfish farmers ain't too good at feedin' the crawfish. Incidentally, after the rice gets all eaten up they turn into damn cannibals! Just one dominant crawfish on the farm could be a terrible thing… it'll end up consuming the weaklings – gaining extended sections of its carapace. The eldest known of these crawfish centipedes lives out in Jennings in a sunken crawfish castle beneath Bayou Nezpiqué. Thing's got an ear for crawfish boats and regularly terrorizes the farmers by hocking rice boulders at them. Sounds like a raw deal, really, but one's got to earn a living. Still, those ill-equipped prefer the gamut of the basin.


Featured on page 23 of Feux Follets: Chemins & Cheminements.
Écoutez sur YouTube.
Çé sèlmen posib fé kopi apré tèks é pòrtré si lartis-la donné pèmisyon ékri.
No text or images from this site may be reproduced without express written permission of the artist.