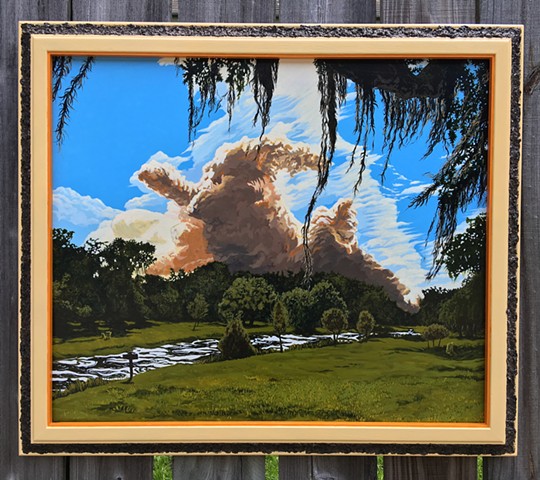 La Grosse Bréchure de l'Île Petite Anse (Gros ladjèl a Lil-Pétilans, The Big Breach of Avery Island)
acrylic and Avery Island sediment on panel, repurposed frame
24.5" x 28.5"
2016
Quelle magnifique après-midi, hein? La chaleur du soleil saute sur ma peau – ses raies scintillent sur la coulée. Si tranquille… sauf pour tout le tintamarre et le grondement de ces machines-là durant la saison de récolte des cannes à sucres. 'Gardez toute cette fumée eux-autres soulèvent. Qui fait ça? Comment foutant… espère, ça ne sent pas comme des cannes à sucre brûlantes. Le goût dans l'air, c'est… salé. L'un après l'autre, la piqûre rempire puisque des morceaux blancs appuie sur la peau. Eux-autres a dit un mensonge. Eux-autres nous a dit un mensonge. Ils ne sont pas disparus. Ils ont juste sommeillé dessous les dômes tout le temps. C'est vrai ce qui a arrivé à bayou Corne, n'est-ce pas? N'est-ce PAS?
Un sifflement perçant casse l'air lourd.
Ce Dos-de-Saumure est trois fois plus grand.
What a gorgeous afternoon, huh? The warmth of the sun skips across my skin – its rays sparkling on the coulée. So peaceful… except for all that noise and rumble from those machines during cane harvesting season. Look at all that smoke they're kicking up. Who does that? How disappointing… wait, that doesn't smell like sugar cane burning. The taste in the air is… salty. Prick by prick the sting worsens as blanche morsels flick the skin. They lied. They lied to us. They haven't disappeared. They've just been slumbering beneath the domes all this time. It's true what happened in Bayou Corne isn't it? Isn't it?
A screeching hiss shatters the heavy air.
This Brineback is 3 times larger.


Private Collection.
Çé sèlmen posib fé kopi apré tèks é pòrtré si lartis-la donné pèmisyon ékri.
No text or images from this site may be reproduced without express written permission of the artist.