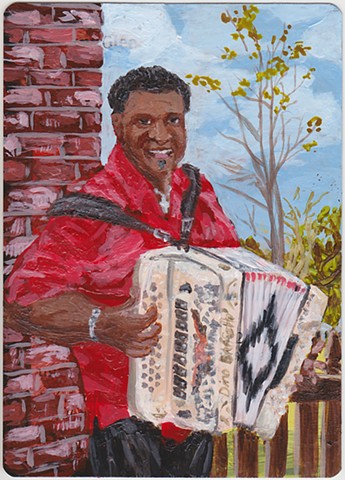 Chubby's Glee (Chubby Carrier)
acrylique sur carte de Magic: The Gathering™
5.125" x 3.125" x .25"
2016
Who is your biggest influence?
Clifton Chenier, Roy Warren Carrier
What's your favorite meal?
Breakfast at midnight: 4 eggs over easy, bacon, ham, hash browns, biscuits with gravy.
When did you begin playing music?
8 years old playing drums. My first gig when I was 10.
What piece of advice would you give a stranger?
Follow Your heart. It doesn't matter what profession you're thinking of. Follow your dream.
What would you say is your biggest moment in your music career so far?
Winning the Grammy.
Do you have a favorite color?
Purple.
What's your goal in creating and playing music?
I started playing and thought that it made people happy. Makes me feel good to make people happy.