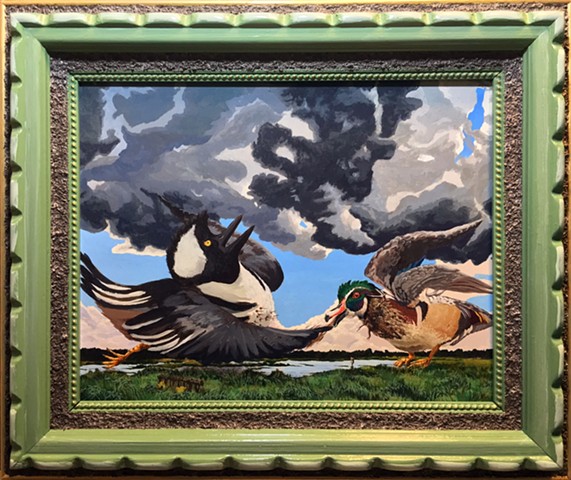 Les Canards de la mèche Madère (The Ducks of Mèche Madère)
acrylic and Mèche Madère sediment on panel and repurposed frame
15.75" x 18.75"
2016
Hé bougre, pourquoi eux-autres toujours vient icitte pour se battre? Je ne peux pas juste m'amuser sans ayant la peur d'être brisé par des canards monstrueux icitte!
Moi, je ne connais pas, mais je crois qu'ils se battent pour cette boîte-là…
Ayoù? Oh ouais, je l'ois. Je souhaite qu'ils vont arrêter parce qu'ils après affecter le temps – 'gardez donc ces nuages-là… Mais, au moins c'est nous-autres qui a les armes. On doit possiblement les user.
Nous-autres n'a pas d'armes.
Say bougre, why they always coming over here to fight? I can't ever just enjoy hunting without the fear of getting smushed by hulking ducks out here!
I don't know, me, but I believe they're fighting over that box….
Where? Oh yeah, I see it. I wish they would stop because now they're affecting the damn weather – just look at those clouds… Well, at least we're the ones that have guns. Might have to use 'em.
We don't have guns.


Private Collection.
Çé sèlmen posib fé kopi apré tèks é pòrtré si lartis-la donné pèmisyon ékri.
No text or images from this site may be reproduced without express written permission of the artist.