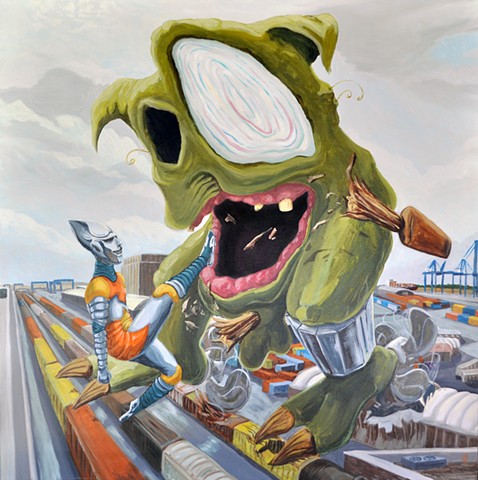 Green Guedry vs. Jet Jaguar (Guédry vert contre Jet Jaguar)
acrylic on canvas
35.5" x 35.5" x 1.5"
2014
In a series of paintings I pitted Japanese pop culture kaiju against creatures inspired by traditional folklore, people, and animals in south Louisiana, but who sometimes mirror the likeness of these monsters from the silver screen. Jet Jaguar is TOHO's revised version of a fan-created mecha called Red Alone and was featured in Godzilla vs. Megalon. Green Guédry, having been inspired by fandom of Louisiana people, became his opponent.
Dans une série des oeuvres, j'ai mis des kaijus de la culture populaire japonaise contre des créatures inspirées par la folklorique traditionnelle, le peuple, et des animaux dans le sud de la Louisiane, mais qui ont parfois la ressemblances de ces monstres du grand écran. Jet Jaguar est la version révisée d'un mécha, créé par un fan, appelé Red Alone. Il était fait par TOHO et présenté dans le film Godzilla contre Megalon. Guédry vert, ayant été inspiré par le fandom des louisianais et des louisianaises, est devenu son adversaire.



Çé sèlmen posib fé kopi apré tèks é pòrtré si lartis-la donné pèmisyon ékri.
No text or images from this site may be reproduced without express written permission of the artist.