More 2015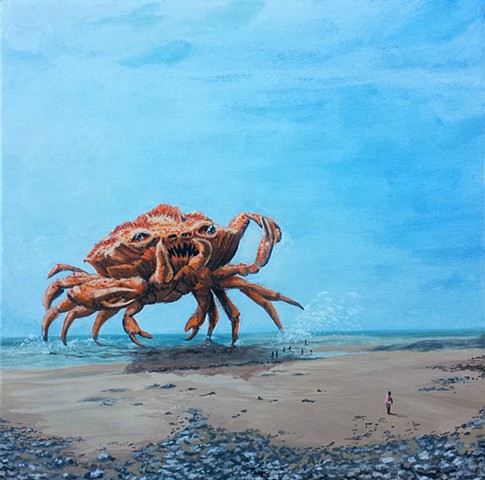 L'Avertisemonstre de la Baie Sainte-Marie
acrylic, sand from the beach at the end of Bourneuf Wharf Road, and crab on canvas
10" x 10" x 1"
2015
Faites attention! Il y a une ancienne créature terrible sur la côte d'est de la baie! J'ai entendu dire qu'il habite quelque part près de l'Université Sainte-Anne.....Il a des couleurs vives et une bouche méchante comme le Diable. Si vous parlez en anglais pendant que vous êtes dans cette région, L'Avertissemonstre de la Baie Sainte-Marie va vous écraser, puis il va vous manger! Parler en français c'est la seule façon de survivre. Est-ce que vous avez vu quelque chose comme ça? Ayez peur...
Beware! (or Pay Attention!) There's a terrible old (or ancient) creature on the east coast of the bay! I heard he lives somewhere near Université Sainte-Anne. It has bright colors and a nasty mouth like the Devil. If you speak in English while you are in this region, the Avertisemonstre of Baie Sainte-Marie will crush you, then it will eat you! Speaking French is the only way to survive. Have you seen something like that? Be afraid...
Collection de l'Université Sainte-Anne.